Posted on | November 22, 2013 | No Comments
Are you seeing stars – and not from twirling around in circles?  Facebook star rating feature is showing up on pages as of two weeks ago.  I'm seeing the star rating on local businesses that have the check-in feature.  So what do you do if you don't like the Facebook star rating on your Facebook page?  You can either quickly and easily remove Facebook star rating feature from your page or work on improving your rating.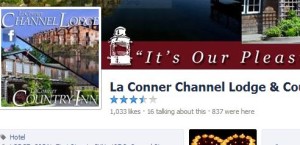 Steps to Remove Facebook Star Rating
Go to your Facebook Page
Click edit page
Click update page info
Click edit to the right of address
Make sure "Show this map on your Page and enable check-ins" is NOT selected
Click Save Changes

Of course, if check-ins are important to your business, then you may want to think about how to improve your Facebook star ratings rather than deleting them!  So what does Facebook have to say about the new star rating feature as TechCrunch reported?
We're extending star ratings on Facebook from mobile to desktop – to make it easier for people to discover great businesses around them. This is beneficial for both businesses and consumers. Star ratings encourage more people to rate a business, making it eligible to appear in News Feed and help others discover a business they didn't know about previously. For businesses themselves, this also leads to greater brand awareness.
As you may recall, star ratings launched in early 2012 with the introduction of Nearby on mobile. Now we're bringing the visibility of star ratings to a more prominent spot at the top of Pages' timeline on desktop and to the preview in News Feed.
keep looking »