Posted on | March 12, 2011 | No Comments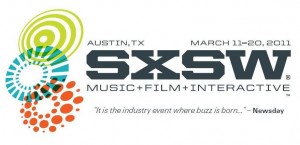 I landed in Texas today.  Austin that is.  Guitars and baggage at the airport.  Sun shining and tex mex restaurants line the drive.  I find the Austin Convention Center (SXSW headquarters) no problem, score a parking spot and pick up my $1,025 badge to wear for the week (hoping nobody steals it right off my neck).  Creative thought landed me here with a home exchange, car exchange, and work exchange (for a badge exchange) all while being able to do my consulting work on the road. 
The best thing about the badge is free drinks, food and music.  After circling the convention center I land at the loftesque corporate office of uShip, inhale a couple plates of food (starving), grab a beer and rock out (with a small group of uShip employees and anyone else who was on the list to get in) with White Denim.   I meet Marshall who gives me a great tip for planning my music schedule: NPR's  Austin 100 which includes the band he will be playing with:  Adam Arcuragi.   SXSW Music – Film – Interactive (MARKETING)… I think this is going to be a good week.
Comments